As a ReadCube Papers subscriber, take advantage of new feature updates across our suite of reference management apps. Take a look below to see what's been added in November.
SmartCite for Google Docs
Our robust citation tool, SmartCite, is now compatible with Google Docs!
Select multiple references from your personal and shared libraries
Choose from over 8,000+ citation styles and easily insert your bibliography with 1-click
Collaborate with colleagues by simply sharing the Google Doc paper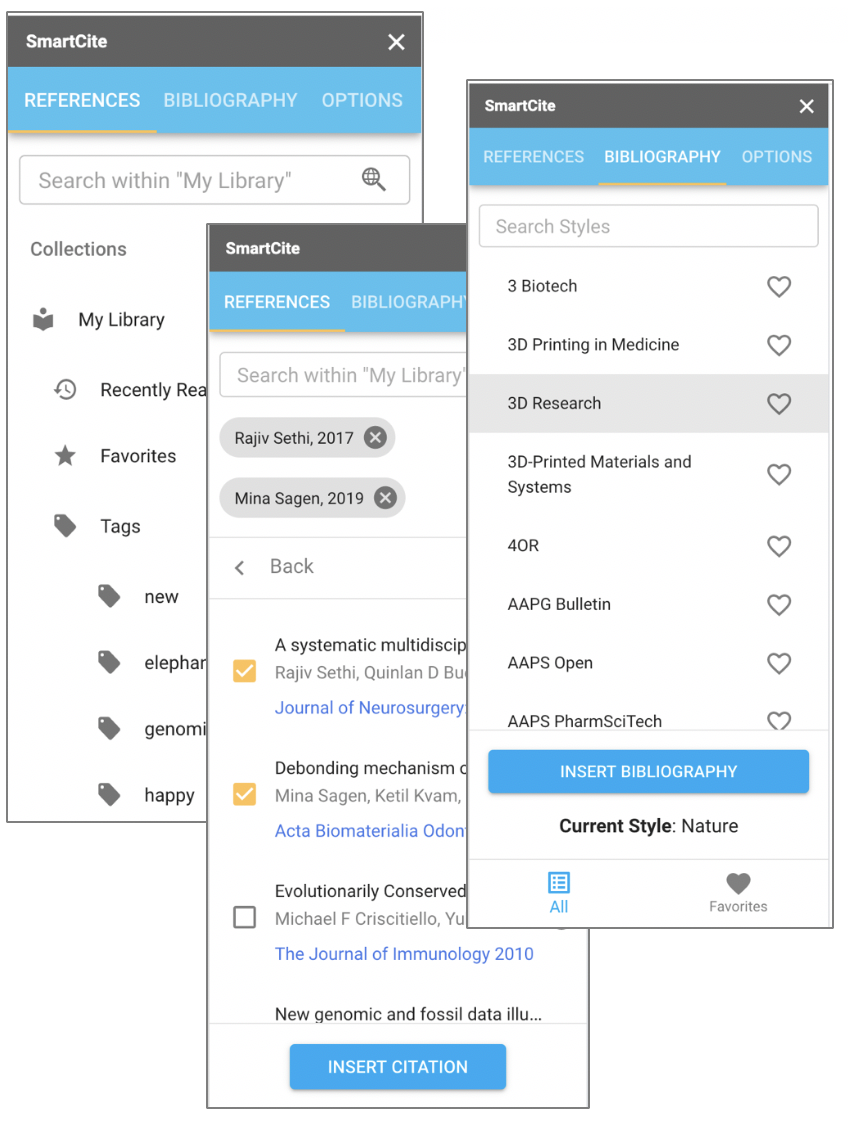 Endnote Importer & 3rd Party Annotation Transfer (Desktop)
Moving your citation tools can be tough, but with ReadCube Papers, you can quickly transfer your library using our new Endnote Importer to avoid creating your library from scratch.
We've built an Endnote import guide detailing how you can transfer your metadata and PDFs directly from your Endnote library.
We've also enhanced our support for transferring over your annotations and highlights from 3rd-party tools. Now anytime you import a PDF with notes from another tool, they will automatically be available to view and edit in our Enhanced PDF Viewer.
Dark Mode for iOS and Android Apps
We're excited to announce new updates for both the iOS and Android apps.
Now, enjoy reading and searching your library with the new Dark Mode!
Copy Citation to Clipboard (Desktop Preview & Web)
We're bringing you more support to our Enhanced PDF Viewer. Now, instead of switching back and forth between the article and your library, simply copy and export the article citation to your clipboard!
Set the style you need (choose between .bib or .ris) and select Copy to Clipboard.
You can also choose to copy the citation to plain text so you can paste the article metadata wherever you need to!
Marquee Zoom (Desktop Preview & Web)
Navigate around the Enhanced PDF Reader with the new Marquee Zoom.
Click, drag and release your mouse to zoom in and out of a specific section of the text, for your reading pleasure!
Hand Tool (Desktop Preview & Web)
Take control of moving around your article with the new Hand Tool.
The Hand Tool will allow you to scroll around the page in any direction with the mouse.
Accelerated Importing (Desktop Preview & Web)
We're excited to announce an additional 16 new journals to support our browser extension. Our browser extension will accelerate importing metadata and full-text from these new journals, meaning you spend more time reading!
We also expanded support for the new PubMed search interface.
Other Notable Features/Updates
Improved support for China proxies
Bug fixes and updates
Missed our October feature update? Read it now!